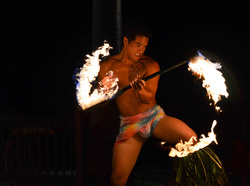 Suppyling affordable top shelf entertainment for the public, corporate, wedding, and hospitality markets. Need just one ukulele player? Need a cast of 15 to perform a polynesian revue? ITAHawaii can help.

Working with the best entertainers on the Big Island of Hawaii. We can create and customize an unforgettable evening with music, dancing, chanting, and fire. Complete with musicians, sound, lights, and a one of a kind show.

Whether your requirements are for a large show package or just need a soloist we work with you to provide the best options in quality and cost.

Click the "Fire Knife Dance" photo for a short video performance!
Click the images below to go directly to our youtube video site!
---